Accommodation for companies
Prague 4 – Modřany
Accommodation for employees & work groups | Staff apartments
Suitable accommodation for workers in construction & services.
Free capacity
Affordable accommodation for small and large work teams.
Security priority
Our facility has 24 hour supervision and we fully comply with health & safety regulations.
Services
Reception, wi-fi, restaurant, on request we provide room cleaning and laundry services.
Anti-covid provision
We regularly disinfect common areas. We provide accommodation in isolation, shopping for food and medicine. More…
Contact: +420 724 009 018
Accommodation for workers
We offer accommodation for companies in two-room apartments in Prague 12 (Modřany). Our premises can be easily adapted and separated for the needs of individual companies to ensure privacy and harmony for the rest of your employees.
We can accommodate small work groups and large teams of hundreds of employees.
Offered services for guests: 
Reception 24/7
Electronic entry system
Equipped kitchen on each floor
Laundry
Security Agency
Elevators
Restaurant
Possibility of corporate catering
Non-smoking rooms
No alcohol in the building
Laundry
Room cleaning
Wi-fi
Energy metering for individual apartments
Hotel-type accommodation with the advantages of a hostel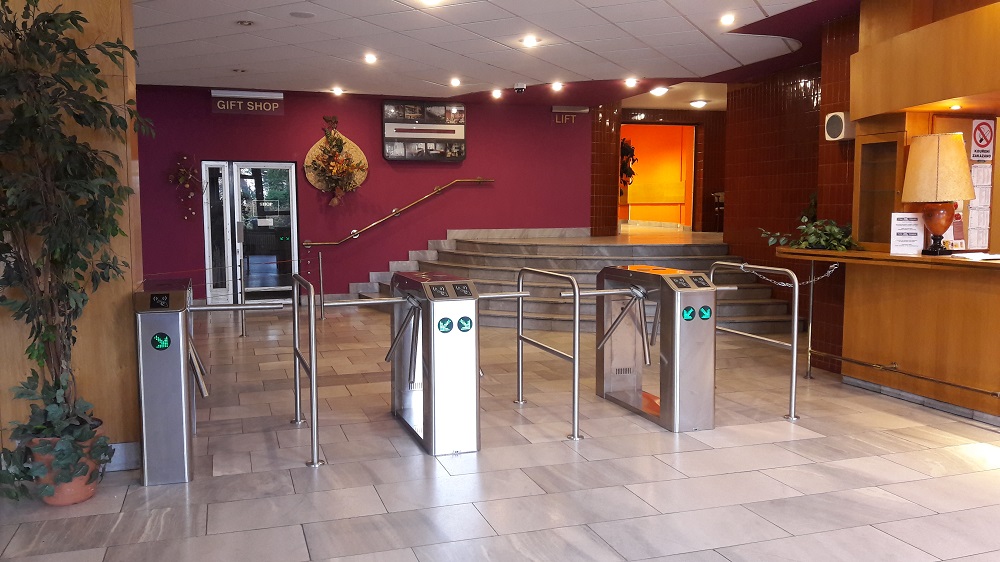 KITCHEN: Each floor has its own shared kitchen equipped with utensils, basic appliances, including several cooking centers. The kitchen is adjacent to a smaller dining room. It is possible to prepare meals at any time during the day without disturbing your roommates.
LAUNDRY: Our guests have the opportunity to use the laundry service or make use of the laundry room themselves, which is also accessible throughout the day.
CATERING: There is a large-capacity restaurant in the building and we can provide corporate catering for employees.
SECURITY: The building is guarded by a security agency all day. For guests who do not follow the rules of the facility, the accommodation contract is terminated with immediate effect. We make sure that our guests have space and an environment to relax.
COMPANY SERVICE
We can solve the demanding agenda of accommodating employees for you. For foreign workers, we prepare a certificate of accommodation for the authorities as standard. We offer a professional accommodation service. With us, you always have an overview of which services are being used and by whom.
Do you need to solve the accommodation of your employees? We will be happy to offer you a solution. We will find a suitable financial option, we will help with the logistics of accommodation. Whether you are looking for accommodation for lower management or a corporate hostel style, there is always a solution.
Offering quality accommodation at a reasonable price is our goal.
Other benefits of accommodation with us
AVAILABILITY: Regular business trips or a longer work projects that requires accommodation for employees located in the southwestern part of Prague. We have ideal transport accessibility: bus, direct connection to metro C (Kačerov), including proximity to the Prague ring road or Strakonická.
BUDGET: We have a choice of several accommodation options – see types of accommodation. For longer-term cooperation, we will prepare a more advantageous price calculation for you.
LOCATION: Near the resort there are excellent civic amenities: supermarket, post office, pharmacy, doctor, rehabilitation, restaurants, bike paths, Modřanská ravine.
ACCOMMODATION PRICES
We will be happy to prepare a calculation for you. We will take into account the number of employees, the length of their stay and the choice of services that we provide for them. Thanks to many years of experience in the field of hospitality and accommodation, we can offer you quality accommodation at a reasonable price. We can provide affordable accommodation as well as standard and tailor-made accommodation.
Your satisfaction is our goal.
Type and pricelist of an accomodation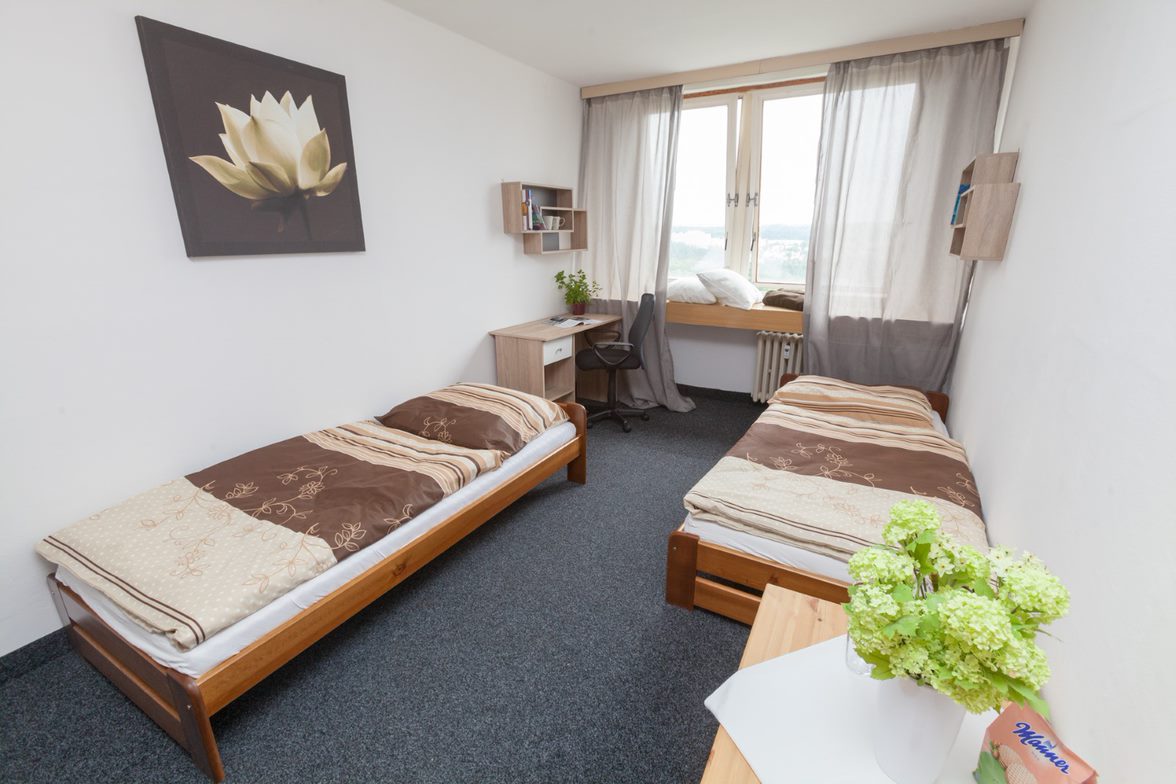 Apartments for up to 5 persons.
The most affordable type of accommodation – apartment for 5 people, which consists of two rooms, a common hall, bathroom with toilet and refrigerator.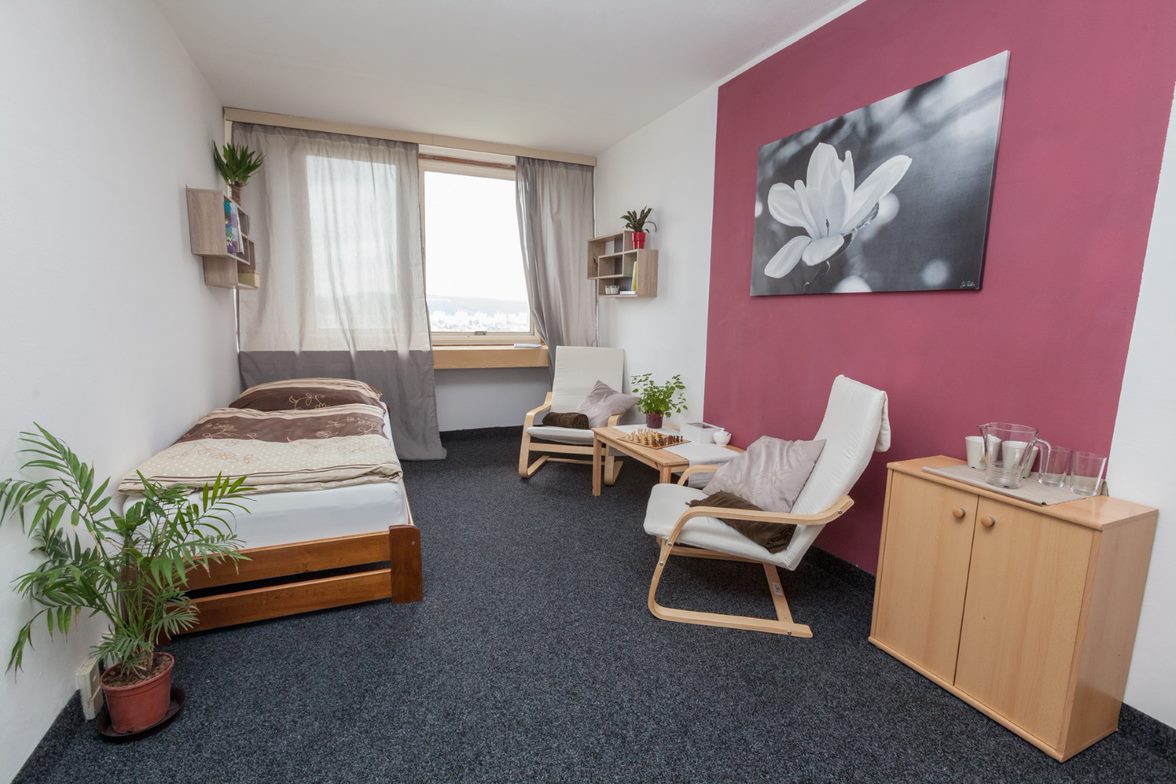 Apartment for 1-2 persons.
The apartment can be arranged as two single bedrooms or as a bedroom and living room.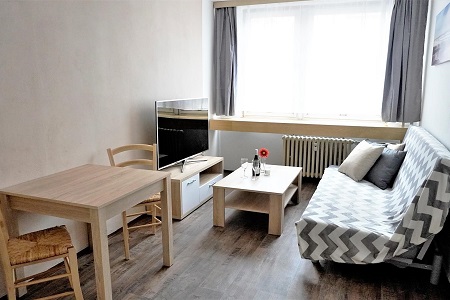 Business apartment 2 + kk
Two-room apartment with equipped kitchen with appliances, bathroom and toilet. The apartment is also equipped with basic furniture: couch, dining table and chairs, wardrobes, TV, wi-fi.
Free capacity
 Our resort has a large accommodation capacity. The premises can be easily modified and thus we can satisfy a wide range of interested parties. Whether you are looking for free service flats, apartments or a hostel for your employees.
Individual floors of the building can be closed only for your company. We guarantee privacy, harmony and security.
New services during a pandemic

Care for the sick and quarantined:
If your employees have to undergo quarantine due to infection or prevention, we are ready to take care of them. We provide the necessary shopping, room disinfection and importantly, accommodation in a separate housing unit. We provide food and the necessary medication or medical care.
TVM Tower test centre – in preparation:
In cooperation with the test centre, we are preparing a sampling point directly in the TVM building. Kovid – point should primarily provide regular testing of residents. More information on request: request@tvmnet.cz